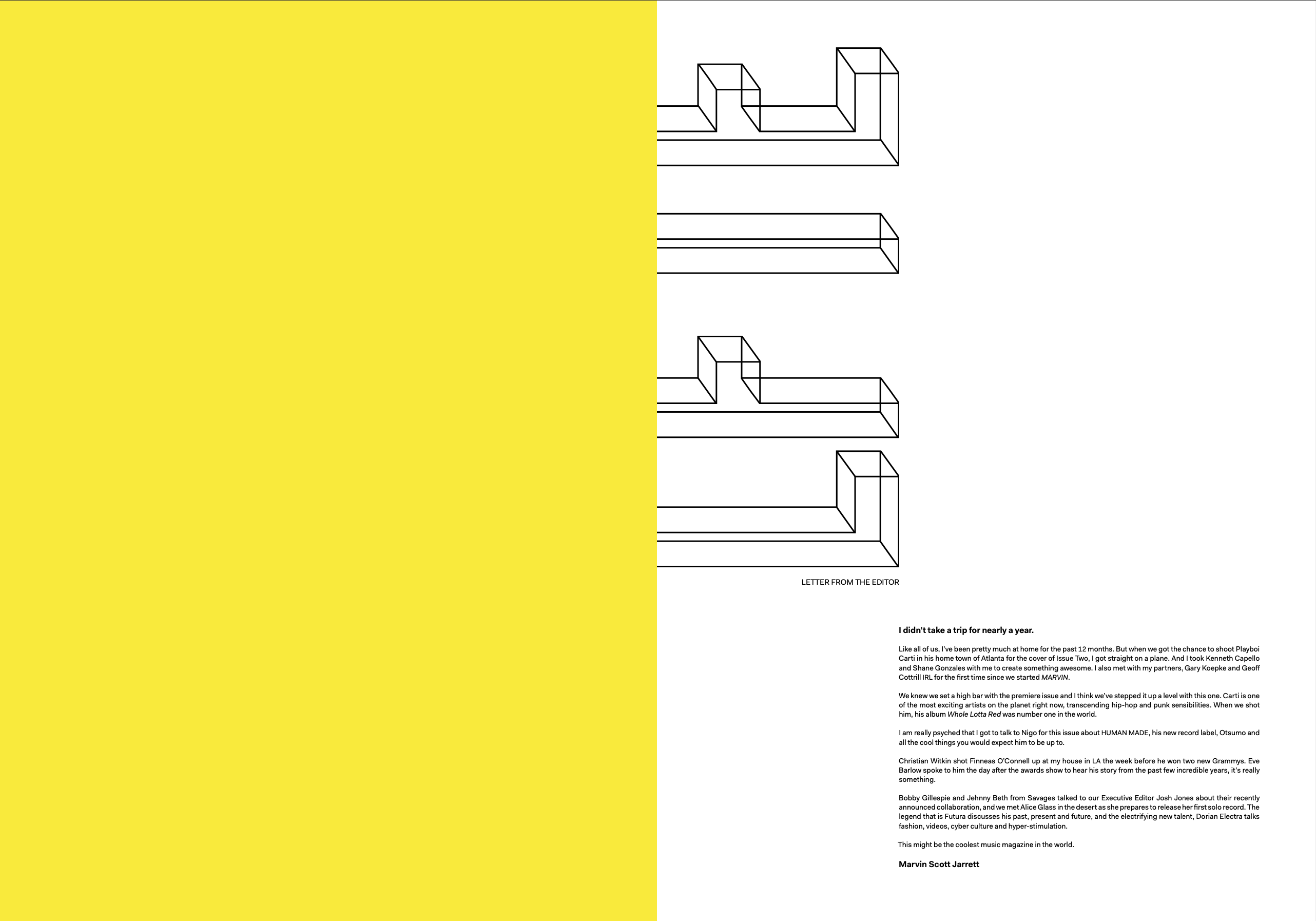 MARVIN speaks to the planet's biggest music acts, the most exciting fashion designers, and cutting-edge artists. Focused on a truly global audience, the magazine bounces from LA to London, and Berlin to Mumbai via Tokyo.

After visiting Gary Koepke's studio and being offered to assist him with the design of Marvin Jarrett's newest magazine, I quickly found myself meticulously typesetting into the early hours of the morning. The problems we faced tended to range from macro to micro. With the launch of this latest publication, we had to establish the brand's visual identity system and ground rules while we were publishing it's early editions. How would we decide to represent an artist's words in a pull quote, or which photo felt like an artist's personality out of the hundreds we would get from a photographer? How were we treating the styles of credits?


After spending a year at the zine and working with Gary, the system became more defined but, at the same time, remained abstract. This allowed us the freedom to react to words and images and make decisions based on our intuition as well as letting the content from the interviews and photography itself guide us.

I had the rare opportunity to experiment with type, layout, and photography in a large format magazine while also learning the basics of print production and brand identity. I also assisted in motion graphics for the first sound and driven episode.

Backed by Porsche and stocked in Antenne Books, Stack Magazines, Lorem not Ipsum, magCulture and more.
TEAM
︎︎︎Creative Director: Gary Koepke
︎︎︎Editor-in-Chief: Marvin Scott Jarrett
︎︎︎Chief Brand Officer: Marvin Scott Jarrett
︎︎︎Executive Editor: Josh Jones
︎︎︎Managing Editor: Sarah Awan